Back to top
News and Announcements
Student Intent Form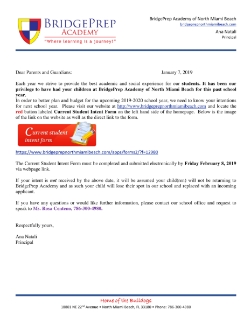 In order to better plan and budget for the upcoming 2019-2020 school year, we need to know your intentions for next school year. The Current Student Intent Form must be completed and submitted electronically by Friday February 8, 2019 via webpage link.

If your intent is not received by the above date, it will be assumed your child(ren) will not be returning to BridgePrep Academy and as such your child will lose their spot in our school and replaced with an incoming applicant.

January Calendar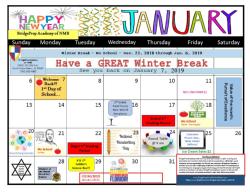 Check out what is going on this month in our January calendar!

January Breakfast and Lunch Calendar
Attached are the breakfast and lunch calendars for January

Sign Up For A School Tour Today!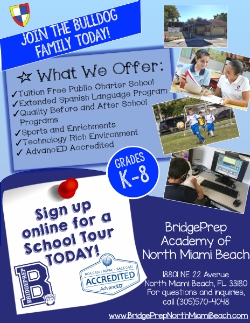 Interested in learning more about our school?
Come out to a school tour and see all that BridgePrep has to offer!

Open Enrollment for the 2019-2020 School Year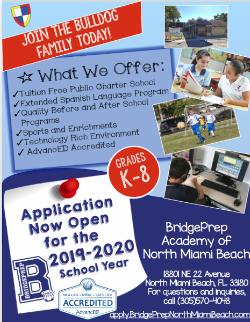 The new student application for the 2019-2020 school year is NOW LIVE!
Become a part of the BridgePrep Bulldog family. Apply Today!

December Lunch and Breakfast Calendar
Attached are the Lunch and Breakfast Calendars for December.

December Calendar

Check out our December calendar and all our wonderful events!

November Breakfast and Lunch Menus
Attached are the breakfast and lunch menus for November.

November Calendar

The November Calendar is here and is filled with tons of activities such as Chocolate Sales, Holiday Pictures, and The Second Annual Thanksgiving Day Feast!

BridgePrep Family Event- Miami Dolphins Game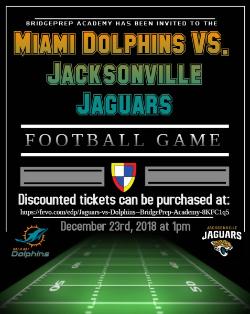 BridgePrep Academy has been invited to the Miami Dolphins vs. Jacksonville Jaguars football game. The game is on December 23rd at 1pm.
For discounted tickets, please visit https://fevo.com/edp/Jaguars-vs-Dolphins--BridgePrep-Academy-8KFC1q5.
Can't wait to see you at the game!