Back to top
News and Announcements
BPANMB SAT/FSA Testing T-Shirts

BPANMB SAT/FSA Testing T-Shirts are for sale in the main office for $10!

Schedule A Tour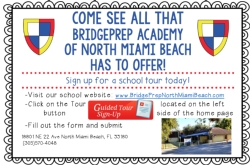 Sign up for a school tour today and see all that BridgePrep Academy of North Miami Beach has to offer!
#BridgePrepAcademyofNorthMiamiBeach #BPAofNorthMiamiBeach #BridgePrepBulldogs

Acceptances Went Out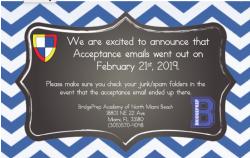 Acceptance emails were sent out on February 21st, 2019.
Please make sure you check your inbox as well as your spam/junk mail folders for the acceptance email.
The email has instructions as to the next steps in the enrollment process.

#BridgePrepAcademyofNorthMiamiBeach #BridgePrepBulldogs #BPAofNorthMiamiBeach

March Breakfast and Lunch Calendar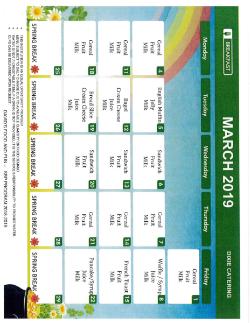 Attached are our Breakfast and Lunch Calendars for March!

March Calendar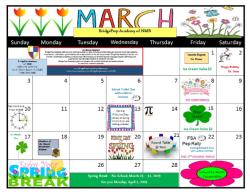 Our March calendar is here! Check out the great events going on this month like FSA/SAT Pep rally, Spring Pictures, and St. Patrick's Day!

Spirit Week & Scholastic Book Fair!

A reminder that Spirit Week is next week from February 4-8. We will also be having our Scholastic Book Fair in the library.

February Calendar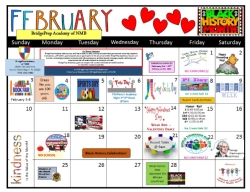 The February Calendar is here! Check out our wonderful events going on this month such as Spirit Week, Black History Month, and Honor Roll.

Student Intent Form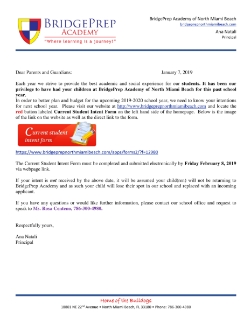 In order to better plan and budget for the upcoming 2019-2020 school year, we need to know your intentions for next school year. The Current Student Intent Form must be completed and submitted electronically by Friday February 8, 2019 via webpage link.

If your intent is not received by the above date, it will be assumed your child(ren) will not be returning to BridgePrep Academy and as such your child will lose their spot in our school and replaced with an incoming applicant.

January Calendar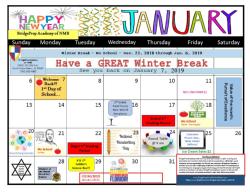 Check out what is going on this month in our January calendar!

January Breakfast and Lunch Calendar
Attached are the breakfast and lunch calendars for January